CHRONIC INFLAMMATION IN GOUT OUTSIDE OF THE FLARE
WITH PROFESSORS GEORG SCHETT, MD AND NICOLA DALBETH, MD
TRANSCRIPT
PROF. NICOLA DALBETH, MD:
Many people with gout who have tophi will also have chronic gouty arthritis, by which I mean chronic synovitis related to MSU crystal deposition within the joints.
So, often we see patients who will present with a chronically inflamed ankle or knee, and actually that is related to a chronic synovitis related to crystal deposition.
PROF. GEORG SCHETT, MD:
I think the biggest misconception is that gout is the acute gout attack. Full stop. After the stop of the gout attack, gout has not stopped, in fact, because the uric acid crystals are still there.
Apart from acute flares and acute gout attacks, there is also a kind of smoldering inflammation, which is associated with swelling and pain, which is typical for tophaceous gout patients.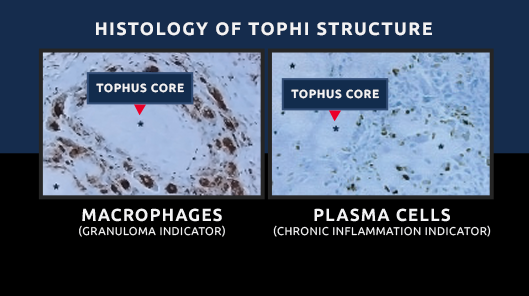 PROF. NICOLA DALBETH, MD:
Essentially, if we look at the architecture of the tophus, we see an organized, granuloma-like structure, which essentially represents a chronic inflammatory response to the monosodium urate crystals.
PROF. GEORG SCHETT, MD:
The patient may not have an acute gout attack, or occasionally has problems, but he still has, or she has the problems of a lot of uric acid crystal deposits, which trigger damage.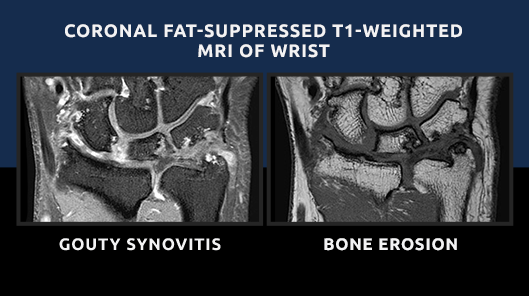 PROF. NICOLA DALBETH, MD:
If we're looking at the relationship with bone erosion, both the monosodium urate crystals and the host inflammatory response to the crystals within the tophus contribute directly to bone erosion.
PROF. GEORG SCHETT, MD:
It's always related to a smoldering destruction of the local tissue. And that's the problem. Because that's the damage which is usually irreversible.
PROF. NICOLA DALBETH, MD:
I think that simply assessing for swollen and tender joints in the way that we would for rheumatoid arthritis is not necessarily appropriate for people with gout.
And we do need to be thinking about actually, do they have tophi, and what are the consequences of those tophi?
WHAT HAPPENS AFTER A FLARE
Professor George Schett, MD examines how pain resolution can mask an ongoing problem in gout.
Review the research
WHAT YOU CAN DO
Learn about a treatment option for chronic gout.
Find out more
References
Dalbeth N, et al. Arthritis Rheum. 2010;62(5):1549-1556.
McQueen FM, et al. Nat Rev Rheumatol. 2012;8:173-181.